Community pub night on Friday 20th January
All the usuals, plus another opportunity to see the plans for the reopening of The Bull and the new nursery building if you missed the meeting. Come in from the cold and warm yourself up with a hearty portion of sausage casserole and a few glasses of something cold. Or warm, depending on what it is!
Villagers excited at prospect of the pub reopening
New plans for the future of the pub were presented by the owners at a public meeting organised by the "Save The Bull" group at Bellingdon & Asheridge Village Hall on Thursday, Jan. 12th. A brief history of the campaign to reopen our village pub can be found here.
Full report to follow.
Bird 'flu latest
There have now been a number of outbreaks of the H5N8 strain in the UK (found in both small back yard flocks as well as wild birds and commercial farms).
On 6th December 2016 a prevention zone was announced across the UK and after many outbreaks across the UK was extended to the 28th of February 2017. At first the requirements of the nationwide protection zone only required keepers to keep their birds indoors where "practicable" and if this was not practicable, to keep all food and water indoors.
After the first confirmed outbreaks this was reviewed and changed making it LAW that all domestic birds including ducks, geese, chickens, turkeys and quail to be kept indoors or completely separate in either a sufficiently covered run (with a solid roof) or polytunnel or similar  and that biosecurity steps such as foot dips etc are put in place. DEFRA and the APHA are cracking down on those that are ignoring the requirements and are able to fine noncompliant keepers £5,000.
At the moment as there are still a large number of keepers locally seemingly ignoring this legislation. Should any of their birds contract the virus a 3km cull zone would be put in place which would involve the culling of ALL domestic birds within that radius  regardless of whether others have been kept biosecure or not. This would mean the certain death of any birds despite them having been kept indoors since the 6th of December. So please if your birds are still unprotected do get them indoors as soon as possible whether its in a part of your shed, outbuilding or a temporary run.
Some keepers have been reported to the authorities as well as others which have had unannounced inspections. (With thanks to Tom Bysouth)
Staying safe in winter
Daylight is at a premium! PLEASE be aware of how visible (or not) you are if you're out and about on the roads – be it on horseback, on a bike or on foot. High visibility clothing, ideally with reflective strips, is a must especially at this time of year.
Also be aware of what time the sun goes down and don't get caught out. The potential consequences of not being seen by a car on the road simply don't bear thinking about – lets not have an accident with a preventable cause. Its YOUR responsibility to make sure you're visible.
Now published. Please let us know if you haven't received yours, or view it online. If you prefer news in your inbox, please feel free to subscribe to our regular (ish) email round robins using the form on the right hand side of this screen.
---
Forró Fest
Forró Fest UK hosted its 6th annual event at Bellingdon Village Hall, with workshops throughout the day and live music in the evenings, the event attracted over 200 keen dancers to enjoy the Brazilian style atmosphere created over the Bank Holiday weekend.

Despite the short bursts of rain, the event was a huge success with lots of positive feedback not only from guests from afar but also from the village too.

Workshops included Capoeira, Samba, Gafieira, Tango, Acro-yoga, Singing and much more and there were special beginners levels classes especially welcoming for locals too. Lots of fun and a great weekend had by all. Many thanks to the Hall for hosting this unusual festival: we are looking forward to next year!
By Julia Samel, Forró Fest organiser
More can be found at www.facebook.com/forrofestuk
---
The Bellingdon and Asheridge Village Hall (BAVH) Charity AGM was held in the hall in late July. Many thanks to all those who attended.
The committee reported that money taken from the booking and hire of the hall is at a good level, the upgraded hall buildings, grounds and playground will be contributing to this.
Community and interest groups such as the Ladies' club and Short-mat Bowls continue to thrive, while considerable investment has been made to improve the pitch areas for continued use by local football clubs and others.
New committee members are always welcome. We have some fantastic plans for the coming year so if you're interested in being part of this valuable community organisation please do get in touch. contact@bellingdon.com
---
What a day! Huge thanks to everyone who supported our fete – from the committee, to the volunteers on the day and everyone who came along to the dog show and to enjoy the traditional fete entertainments.
The weather was kind, despite some fairly dire predictions, and the heavens only opened as we were packing up. We're off for a well-earned rest before we have to start thinking about the next one!
Click on the photo to go to our Flickr gallery:
---
Vacancy: parish councillor for Bellingdon
Chartridge Parish Council has a vacancy for a councillor to represent the Bellingdon ward.  If you live in Bellingdon, have a genuine interest in the local community and how it is serviced, and can dedicate one evening each month to meet plus a small amount of your spare time to considering a range of issues (planning, highway maintenance, footpaths and bridleways, county and district council consultations to name but a few) please contact the Parish Clerk in the first instance.
---
A Royal Visit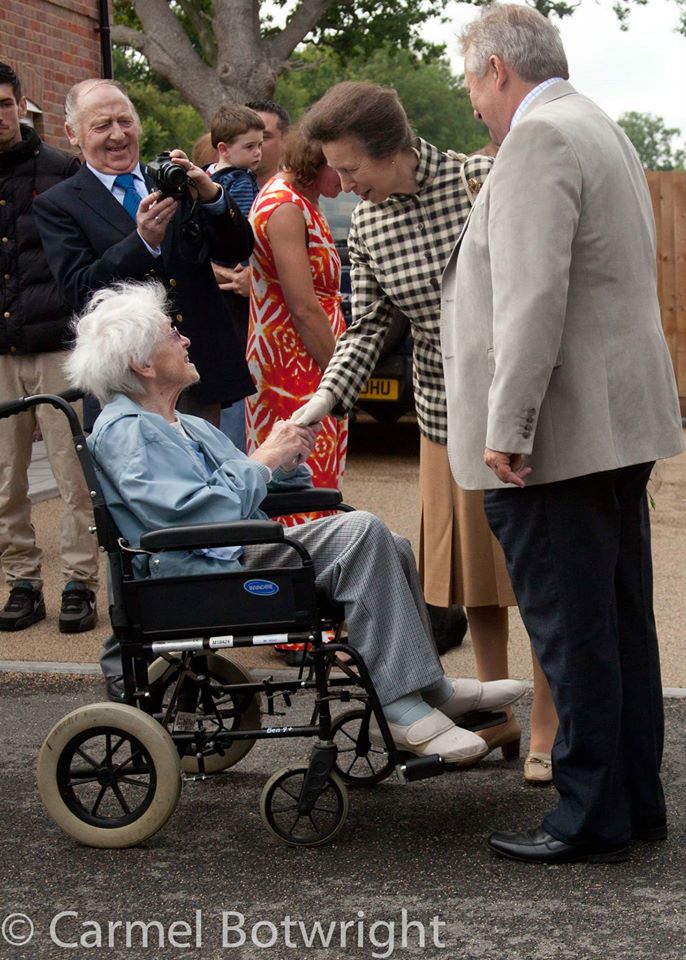 The Princess Royal, Princess Anne visited Bellingdon on 14th July 2015 to see the new affordable housing in the village.
Chairman of Chartridge Parish Council Peter Brown welcomed The Princess Royal and showed her around some of the properties before planting a tree to commemorate the event.
Photo: Carmel Botwright
---
Bellingdon Bikers
Now that the weather is improving why not get out your bike and pump up the tyres and join a group of like minded people and go on some beautiful bike rides around the area. So much more of our beautiful countryside can be seen from your bike and it is good for you too. All rides end at a suitable hostelry! Click here for more information. or email here.