From the Community Safety Team at Chiltern District Council 
The Safe Place Scheme was launched in Buckinghamshire in 2012, and has built a network of suitable venues, such as local shops and restaurants, where someone can go for help and assistance, providing reassurance to vulnerable people and their carers, or people who find themselves in challenging situations.
What is the Safe Place scheme?
The scheme helps vulnerable people deal with any incident that takes place when they are about in the community e.g. harassment or bullying. Above all, the scheme aims to help vulnerable people lead independent lives and feel safe whilst out in Bucks.
How does the scheme work?
The Safe Place sticker in the window of a business identifies the premises as a safe place.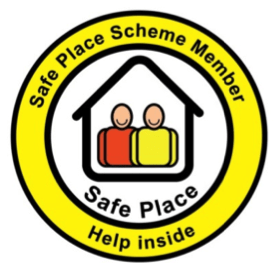 A vulnerable person may carry a Safe Place contact card that they can show to a business; however you do not have to have a card to seek assistance from those businesses supporting the scheme.
What will businesses be expected to do?
If a vulnerable person seeks help, members of staff would be expected to make a phone call if necessary, provide a temporary safe haven for vulnerable people and also to reassure them and keep them safe until help and support arrives.
Who will use the scheme?
A number of agencies working in the local area will identify vulnerable people who could benefit from the scheme; someone with a physical or learning disability, an illness or severe medical condition or the elderly, although anyone can seek help if they are feeling vulnerable at that point in time.
How can I get involved?
If you own or manage a business and would like to become a 'Safe Place', or if you know of someone who would benefit from the scheme, please contact the Chiltern District Council and South Bucks District Council Community Safety Team on 01494 586535 or email communitysafety@chiltern.gov.uk.
Anyone who would like a card to carry around giving their emergency contact details can contact the Community Safety team on 01494 586535 or email on communitysafety@chiltern.gov.uk
There's more information about the Safe Place scheme at:
www.chiltern.gov.uk/safeplacescheme and www.southbucks.gov.uk/safeplacescheme
For other Council Areas in Buckinghamshire please use the information below:
Aylesbury Vale – 01296 585000 Wycombe District – 01494 461000
communitysafety@aylesburyvaledc.gov.uk community@wycombe.gov.uk
Follow us on twitter for community safety updates and crime prevention advice @csafetycdcsbdc