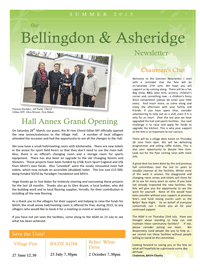 The Bellingdon and Asheridge Village Hall Committee produces a quarterly newsletter which is circulated by volunteers to all properties in the Bellingdon and Asheridge area.
If you have any ideas for articles that would be of interest to our community then please email us at newsletter@bellingdon.com.
If you prefer the newsletter electronically, please see the PDF files below. We also send a monthly email roundup. Please email us with your name, email address and postcode if you'd like to be included.
2017 Spring | Summer | Autumn | Winter
2016 Spring | Summer | Autumn | Winter
2015  Spring | Summer| Autumn | Winter
2014  Spring | Summer | Autumn | Winter
2013 Spring | Summer | Autumn | Winter
2012 Winter | Autumn | Summer | Spring